Customers rely on our expertise in parking to help them optimize their parking situation, integrate innovative solutions and build Smart Cities for their Community.
For more details, please download the introduction material of EPS Global and Cityzen smart parking system.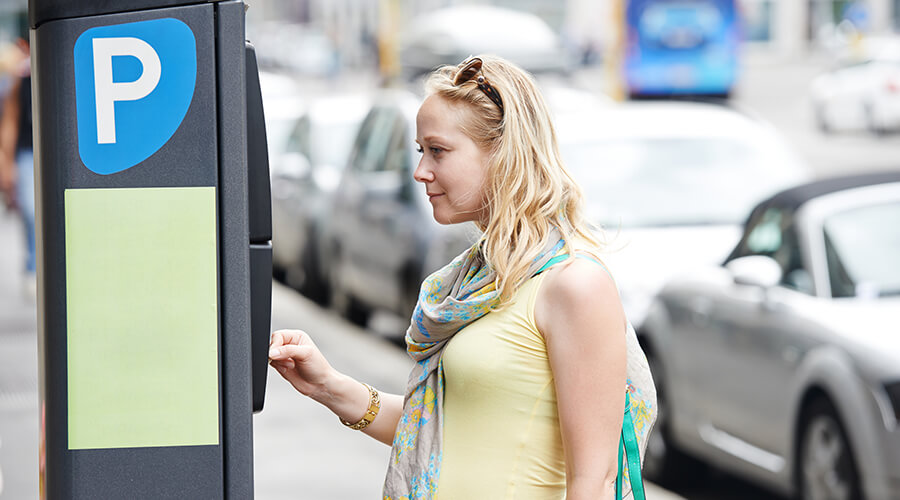 2012
EPS Global established and co-owned by Hungarian and German private investors with the aim to pursue world class technology development in parking management systems.
2016
EPS Global established the Joint Venture company ZTE EPS with ZTE Corp's ITS company named ZTE ITS and won the first Chinese PPP parking project of the PRC in Jiangsu Province's, Yangzhong City (mainland China). The scope of the project is to build 10.000 parking spaces and operate these for 20 years (concession tight acquired).
Hungary's largest ITS company named i-Cell acquires major stake in EPS Global.
Hungarian Government owned EXIM (Export-Import) Bank's Investment fund invests 3,3M EUR and acquires major stake in EPS Global.
2017
Hungarian Government owned EXIM Bank invests further 1,65M EUR into EPS Global.
EPS Global acquires majority shares (50,1 %) in the project company named Yangzhong ZTE EPS Parking Management Company Limited, which company is developing and will be operating the smart parking system of Yangzhong city (Jiangsu Province, PRC).
2018 - Yangzhong, China
Yangzhong ZTE EPS Parking Management Company Limited finished the construction of the 1st phase (2350 on-street parking spaces, 1000 equipped with geo-magnetic parking occupancy sensor, 39 LED smart guidance boards, connected 32 off-street parking lots and established the IT system) of the Yangzhong Smart Parking System and filed the request for check & acceptance and the financial audit report the Yangzhong Municipal Government.
On the 11th of December, 2018 our Chinese smart parking project in Yangzhong city passed the Governmental check & acceptance procedure, from a technical point of view all Government permits are acquired, so we can state the construction and testing phase of the project is finished.
2019 - Yangzhong, China
Yangzhong ZTE EPS Parking Management Company Limited has successfully passed the project financial audit of Yangzhong Municipal Government, which was the final green light in order to start the operation of the parking system operation. The trial operation of 1000 parking spaces was held in Yangzhong city from November to December 2019.
2020 - Yangzhong, China
After a successful one-month trial operation, the normal parking operation in Yangzhong city started at the beginning of January 2020. Thanks to not just the high-tech solutions and software in the smart parking system's background but also the know-how transfer and management practices, our local Chinese team operated the parking system effectively with the software support of our Hungarian team. Right after starting the operation, in the first few weeks we had over ten thousand local users, who downloaded our smart parking app and our system handled over twenty five thousand parking events well making the parking situation in the city center of Yangzhong better. Cars are parking for shorter time, the parking spaces have a higher turnover rate and divers enjoy the guidance to available parking spaces, which result in less traffic. This whole system and operation model we developed can be applied in other cities as well, after adjusting it to the local requirements and needs.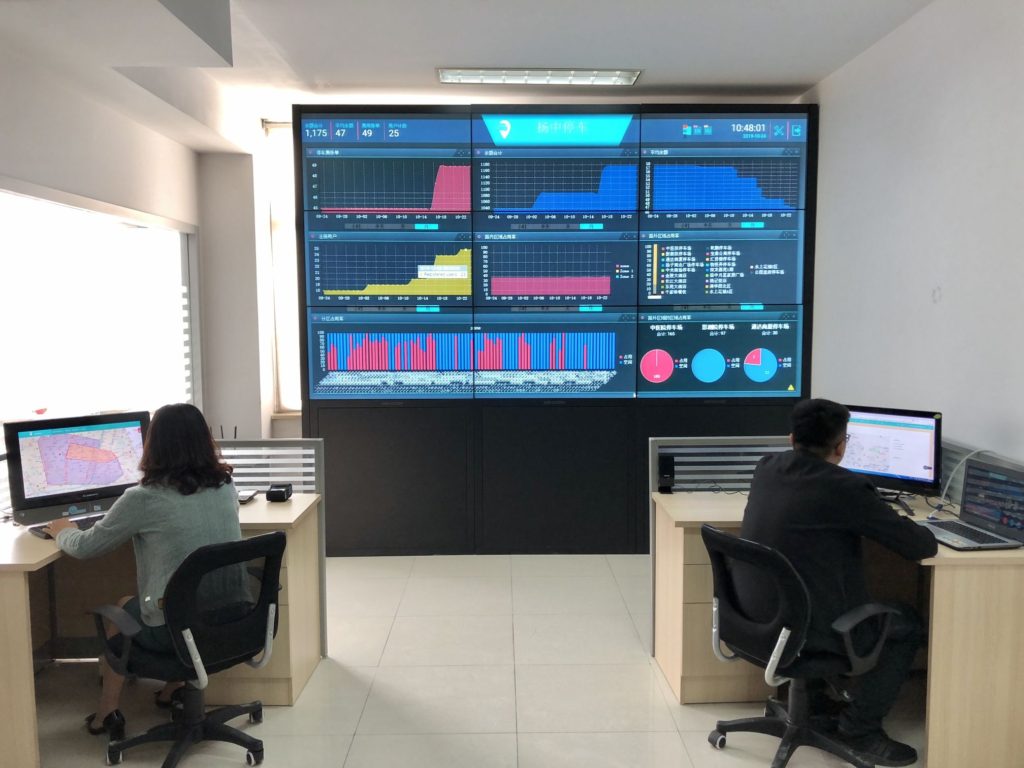 Yangzhong parking operations center
2020 - Chifeng, China
Since July, 2020 EPS is the majority stakeholder in the Chifeng parking project company and the minority stakeholder is ZTE ITS. Currently we are operating a smart parking system with over 5400 parking spaces in Hongshan district, the city center of Chifeng city, which has a population of 4.3 Million, and located in Inner Mongolia, China. The parking operation right is granted for 25 years according to the concession contract for 20 000 parking spaces. The drivers receive the parking information (occupancy of the parking spaces) real-time, online via the mobile app and LED traffic signs. The parking data is collected with geo-magnetic wireless sensors. The municipal government has a control center developed by our parking project company, where all the parking data (occupancy and turnover rates, parking durations, income and other operational data) are displayed after being processed, analyzed and organized by the software system, which is also automatically creating reports.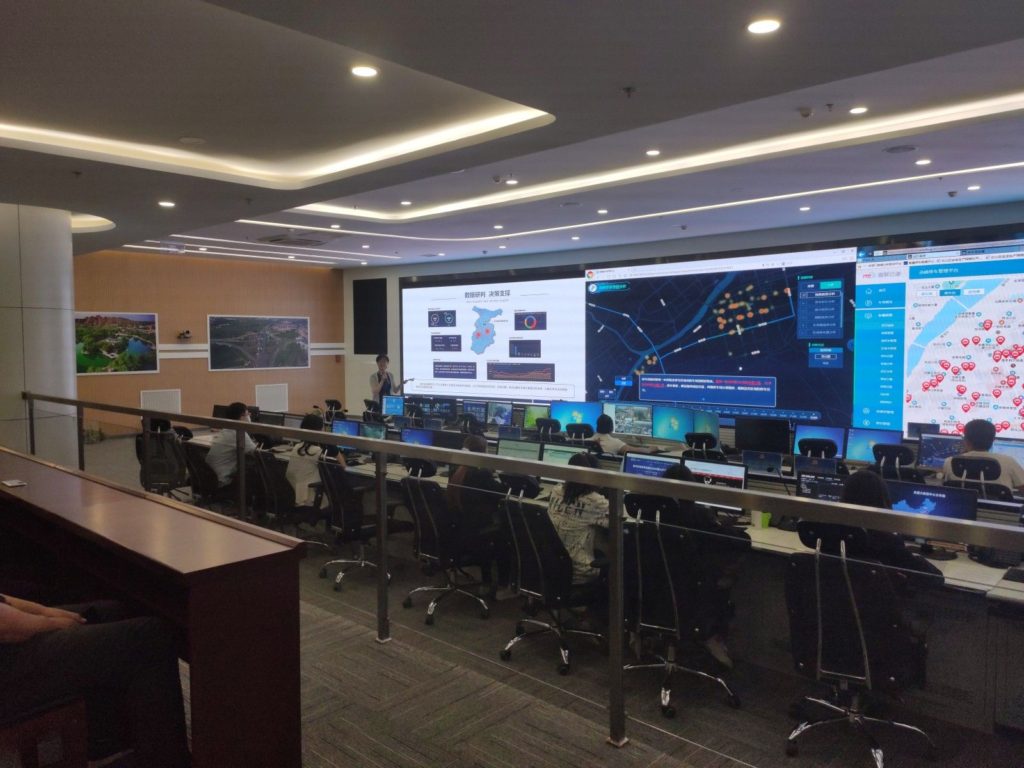 Chifeng city's parking operation center
2020 - Hévíz, Hungary
Since the 1st August, 2020 the parking system in Hévíz, Hungary is operated with EPS' smart parking software. Unlike other Hungarian systems, a license plate-based parking system was implemented in Hévíz, i.e. parking is not based on a parking ticket placed behind the windshield (pay & display), but on a license plate basis (pay by plate). The software system also stores all operating and thus revenue data and generates reports according to the needs of the municipality automatically. These are essential for transparent operation and the development of transport in the city. In addition the new software system is capable to connect new smart elements such as parking space occupancy sensors and / or cameras and the mobile application and intelligent traffic and control signs to the system. The drivers can pay via bank card and cash at the parking machines and also via bank card at the parking controllers. Besides in case of being fined the drivers can pay the parking fine at the parking machine of electronically on the parking website of the municipal government, which was also developed and is operated by EPS. It can be stated that currently the local government of the city of Hévíz in Hungary has the most modern and at the same time the only parking software system that meets the traditional, current legal environment, but also implements already some smart parking functions and can provide additional smart functions after related hardware will be installed.
Our

values

Our values drive us to contribute to a better living in your cities
Quality
Our dedicated group of parking experts (engineers, developers, know-how specialists and designers) have the perfect knowledge and professional skills to deliver you everything your project needs in this business.
Client focused
We work hard for preserving our client's confidence.
Open-mindedness
We strive to continually learn, improve, adapt, evolve and innovate in our services, communications and our relationships with a positive mental attitude.
Balance
We believe in partnerships and a great team spirit where we can share our experience and listen to your needs.
Flexible solutions
Our job is to offer tailor-made solutions adapted to your specific needs.
Community
We appreciate the value and diversity of our team. We respect, trust and support each other.
Why
EPS Global

?

Why you should choose EPS Global?
EPS Global has a solid DNA based on its parking operation history
Founded on a complete range of integrated parking management systems fully or partly created and developed by us
We offer, operate, develop and sell parking systems, traffic related technologies and other services
EPS Global helps you to get a clear picture on your traffic management and parking situation
You get a full parking solution, handling all aspects of parking management
We solve the financing of your parking project in the best available cooperation (and business) model
You can get connected to more precise Data resulting from better real-time monitoring and evaluation techniques
You can make both your city and your citizens, or customers, benefit from the cutting-edge technological solutions and offer them a better digital experience daily
You can become the next initiator of Smart City Projects
You can be the next capacity capturer who is ready to face new challenges related to sustainable development and urban mobility